Forcepoint Stonesoft Next Generation Firewall

Highly Available, Scalable and Flexible Protection Against Advanced Threats
Overview:
Environment Options


Appliance
Forcepoint Stonesoft Next Generation Firewall protects enterprise networks with high-performance "intelligence aware" security supported by real-time updates. This enables Stonesoft to deliver the industry's best defense against advanced evasions, along with complete next-generation firewall protection when and where you need it at remote sites, branch offices, data centers, and the network edge.
Forcepoint Stonesoft Next Generation Firewall (NGFW) starts with a solid foundation of protection, including granular application control, an intrusion prevention system (IPS), built-in virtual private network (VPN), and deep packet inspection, all in an efficient, extensible, and highly scalable unified design. Then we add powerful anti-evasion technologies that decode and normalize network traffic — before inspection and across all protocol layers — to expose and block the most advanced attack methods.
Block Sophisticated Data Breach Attacks
Large data breaches continue to plague businesses and organizations across industry verticals. Now you can fight back with application layer exfiltration protection. This new solution enables Stonesoft NGFW to selectively and automatically block network traffic originating from PCs, laptops, servers, file shares, and other endpoint devices based on highly granular endpoint contextual data. Application layer exfiltration protection is the only solution that goes beyond typical next-generation firewalls to prevent attempted ex-filtration of sensitive data from endpoints via unauthorized programs, web applications, users, and communications channels.
Superior flexibility keeps pace with your changing security needs
A unified software core enables Stonesoft NGFW to easily change security roles, from firewall/ VPN to IPS to layer 2 firewall, in dynamic business environments. The unified software core also serves to optimize the data plane, providing a significant performance advantage regardless of security role or number of active security features. For even more flexibility, Stonesoft NGFW can be deployed in a wide variety of formats — as a physical appliance, software solution, virtual appliance, or as virtual contexts on a physical appliance.
High scalability and availability secures your business-critical applications
Today's businesses demand fully resilient network security solutions. Forcepoint Stonesoft NGFW delivers high scalability and availability in three powerful ways:
Native active-active clustering: Up to 16 nodes can be clustered together, providing superior performance and resiliency when running demanding security applications, such as deep packet inspection and VPNs.
Transparent session failover: Provides industry-leading availability and serviceability of security systems. Stonesoft NGFW even supports transparent failover for multiple software and hardware versions within the same cluster.
Multi-Link: Extends high availability coverage to network and VPN connections. Provides the confidence of non-stop security along with high performance for every deployment.
Unmatched protection keeps your business in business
Every day attackers get better at penetrating enterprise networks, applications, data centers, and endpoints. Once inside, they can steal intellectual property, customer information, and other sensitive data, causing irreparable damage to businesses and reputations.
Some attackers use advanced evasion techniques (AETs) that are able to bypass most of today's security network devices. AETs deliver malware piecemeal across network layers or protocols using techniques such as masking and obfuscation. Once inside networks, threats are reassembled where they can hide, exfiltrating sensitive data for days, months, or even years.
Forcepoint Stonesoft NGFW applies layered threat discovery techniques to network traffic, identifying applications and users at a granular level so that security policies can be applied according to business rules. Then it performs specialized deep packet inspection, including advanced techniques such as full stack normalization and horizontal data stream-based inspection. These techniques fully normalize traffic flows, enabling Stonesoft NGFW to expose AETs and traffic anomalies that evade other next-generation firewalls. Only after traffic has been fully normalized can it be properly inspected across all protocols and layers for threats and malware. And only Stonesoft NGFW has been successfully tested against more than 800 million AETs.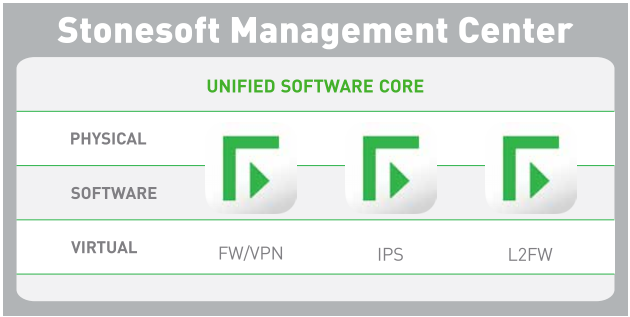 Features and Benefits:
Benefits
The best protection for your business and digital assets
Blocks endpoint data exfiltration attempts
Adapts easily to your security needs
Scales effortlessly as your business grows
Optimizes productivity of employees and customers
Lowers TCO for security and network infrastructure
Delivers superior protection against advanced evasion techniques (AETs)
Gives you holistic visibility into traffic and security across your distributed network
Offers granular and flexible access controls, with optimized workflows to make life easier for your IT security team
Reduces security-related downtime by 94%, with no scheduled downtime required for software upgrades
Maintains high performance even with all next-generation firewall (NGFW) functions active
Improves response time by 84%
Reduces network infrastructure costs by 30%
Features
Centralized management of up to 2,000 firewalls
Built-in active-active clustering that scales to 16 nodes for high availability
Plug-and-play installation of remote network firewalls
Scalable and resilient Multi-Link VPN for site-to-site connectivity
"Intelligence-aware" security controls
Application layer exfiltration protection
Advanced evasion prevention
Unified software core design
Many options for security and network infrastructure
Powerful centralized management
Built-in IPsec and SSL VPN
Specifications:
Stonesoft Next Generation Firewall Specifications
Supported Platforms
Appliances
Multiple hardware appliance options, ranging from branch office to data center installations
Software Appliance
X86-based systems
Virtual Appliance
VMware ESX, Oracle VM, and KVM support
Supported Roles

With NGF License: Firewall/VPN (layer 3), IPS mode (layer 2), layer 2 firewall •
With FWL License: Firewall/VPN (layer 3)

Virtual Contexts (NGF License only)
Virtualization to separate logical contexts (FW, IPS, or L2FW) with separate interfaces, addressing, routing, and policies
Firewall/VPN Functional Role
General
Stateful and stateless packet filtering, circuit-level firewall with TCP proxy protocol agent
User Authentication
Internal user database, LDAP, Microsoft Active Directory, RADIUS, TACACS+
High Availability

Active-active/active-standby firewall clustering up to 16 nodes
Stateful failover (including VPN connections)
VRRP
Server load balancing
Link aggregation (802.3ad)
Link failure detection

ISP Multi-Homing
Multi-Link: high availability and load balancing between multiple ISPs, including VPN connections, Multi-Link VPN link aggregation, QoS-based link selection
IP Address Assignment

FW clusters: static, IPv4, IPv6
FW single nodes: static, DHCP, PPoA, PPoE) IPv6 (static, SLAAC)
Services: DHCP Server and DHCP relay for IPv4

Address Translation

IPv4, IPv6
Static NAT, source NAT with port address translation (PAT), destination NAT with PAT

Routing
Static IPv4 and IPv6 routes, policy-based routing, static multicast routing
Dynamic Routing
IGMP proxy, RIPv2, RIPng, OSPFv2, OSPFv3, BGP, PIM-SM
IPv6
Dual stack IPv4/IPv6, ICMPv6, DNSv6
SIP
Allows RTP media streams dynamically, NAT traversal, deep inspection, interoperability with RFC3261-compliant SIP devices
CIS Redirection
HTTP, FTP, SMTP protocols redirection to content inspection server (CIS)
IPsec VPN
Protocols
IKEv1, IKEv2, and IPsec with IPv4 and IPv6
Encryption
AES-128, AES-256, AES-GCM-128, AES-GCM-256, Blowfish, DES, 3DES1
Message Digest Algorithms
AES-XCBC-MAC, MD5, SHA-1, SHA-2-256, SHA-2-512
Diffie-Hellman
DH group 1, 2, 5, 14, 19, 20, 21
Authentication
RSA, DSS, ECDSA signatures with X.509 certificates, pre-shared keys, hybrid, XAUTH, EAP
Other

IPCOMP deflate compression
NAT-T
Dead peer detection
MOBIKE

Site-to-Site VPN

Policy-based VPN, route-based VPN (GRE, IP-IP, SIT)
Hub and spoke, full mesh, partial mesh topologies
Stonesoft Multi-Link fuzzy-logic-based dynamic link selection
Stonesoft Multi-Link modes: load sharing, active/standby, link aggregation

Mobile VPN

VPN client for Microsoft Windows
Automatic configuration updates from gateway
Automatic failover with Multi-Link
Client security checks
Secure domain logon

IPsec VPN (NGF License Only)
Client-Based Access
Supported platforms: Android 4.0, Mac OS X 10.7, and Windows Vista SP2 (and newer versions)
Portal-Based Access
OWA and Intranet access via SSL VPN portal through a browser
Inspection
Anti-Botnet

Decryption-based detection
Message length sequence analysis

Dynamic Context Detection
Protocol, application, file type
Advanced Anti-Malware
Policy-based file filtering
Sandboxing
Support for McAfee Advanced Threat Defense
File Reputation
Classification from McAfee GTI cloud service or optionally from local McAfee Threat Information Exchange
Anti-Malware Engine
McAfee Anti-Malware engine. Scanned protocols: FTP, HTTP, HTTPS, POP3, IMAP, SMTP
Protocol-Specific Normalization/ Inspection/Traffic Handling3
Ethernet, H.323, GRE, IPv4, IPv6, ICMP, IP-in-IP, IPv6 encapsulation, UDP, TCP, DNS, FTP, HTTP, HTTPS, IMAP, IMAPS, MGCP, Modbus/TCP, MSRPC, NetBios Datagram, OPC Classic, OPC UA, Oracle SQL Net ,POP3, POP3S, RSH, RSTP, SIP, SMTP, SSH, SunRPC, NBT, SCCP, SMB, SMB2, SIP, TCP Proxy, TFTP
Protocol-Independent Fingerprinting
Any TCP/UDP protocol
Evasion and Anomaly Detection

Multilayer traffic normalization
Vulnerability-based fingerprints
Fully upgradable software-based inspection engine
Evasion and anomaly logging

Custom Fingerprinting

Protocol-independent fingerprint matching
Regular expression-based fingerprint language
Custom application fingerprinting

TLS Inspection

HTTPS client and server stream decryption and inspection
TLS certificate validity checks
Certificate domain name-based exemption list

Correlation
Local correlation, log server correlation
DoS/DDoS Protection

SYN/UDP flood detection
Concurrent connection limiting, interface-based log compression
Protection against slow HTTP request methods

Reconnaissance
TCP/UDP/ICMP scan, stealth, and slow scan detection in IPv4 and IPv6
Blocking Methods
Direct blocking, connection reset, blacklisting (local and distributed), HTML response, HTTP redirect
Traffic Recording
Automatic traffic recordings/excerpts from misuse situations
Updates

Automatic dynamic updates through Stonesoft Management Center
Current coverage of approximately 4,700 protected vulnerabilities

URL Filtering
Protocols
HTTP, HTTPS
Engine
Webroot category-based URL filtering, blacklist/whitelist
Database

More than 280 million top-level domains and sub-pages (billions of URLs)
Support for more than 43 languages, 82 categories

Safe Search
Safe search usage enforcing for Google, Bing, Yahoo, DuckDuckGo web searches
Management & Monitoring
Management Interfaces

Enterprise-level centralized management, logging and reporting system.
See the Stonesoft Management Center datasheet for details.

SNMP Monitoring
SNMPv1, SNMPv2c, and SNMPv3
Traffic Capturing
Console tcpdump, remote capture through SMC
High Security Management Communication
256-bit security strength in engine-management communication
Security Certifications
Common Criteria EAL4+, FIPS 140-2 crypto certificate, CSPN by ANSSI (First Level Security Certification USGv6)
1 Supported encryption algorithms depend on license used.
2 Firewall/VPN role only.
3 See firewall license-related limitations.