Forcepoint Stonesoft Management Center

Efficient, Centralized Management of Forcepoint Stonesoft Next Generation Firewalls in Distributed Enterprise Environments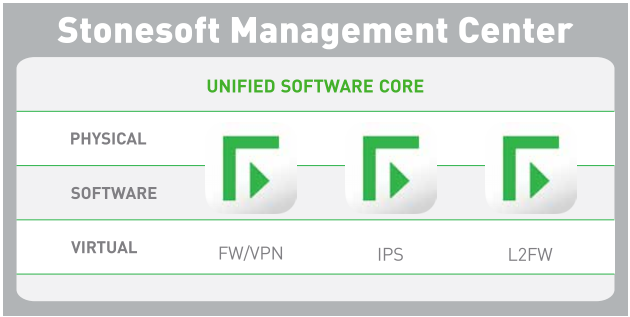 Overview:
Forcepoint Stonesoft Management Center (SMC) provides unified, centralized management of Stonesoft Next Generation Firewalls, in all operational modes across large geographically distributed enterprise environments.
Superior flexibility, scalability, and ease-of-use support dynamic network security environments and aggressive business growth plans. Optimized workflows streamline daily administrative tasks and security management for high efficiency and low TCO.
The SMC also supports third-party devices, gathering event management and status monitoring information for generating detailed reports. This open approach provides administrators with a comprehensive view of their environment.
SMC consists of two components — Stonesoft Management Server and Stonesoft Log Server which can reside on the same or separate servers.
High Availability
Today's businesses have zero tolerance for disruption, demanding 24/7/365 access to critical resources. Forcepoint SMC High Availability features enable reliable deployment of extremely resilient management infrastructure with continuous access to log resources.
Security Management Client
Regardless of geographic location, administrators can access the SMC with the Management Client. The client provides a simple graphical user interface for configuration, monitoring, logging/ alerts, reports, updates, and upgrades to Stonesoft Next Generation Firewalls. The Stonesoft Management Center Client provides administrators with a holistic view of the network and drill-down actions for effective management of your entire security environment.
Features:
Centralized, single-pane-of-glass management of Forcepoint Stonesoft Next Generation Firewalls in distributed environments.
Flexibility and scalability for deployment in large distributed enterprise environments.
High availability supports demanding uptime requirements.
Efficient workflow automation provides fast and accurate deployment and maintenance of Forcepoint Stonesoft Next Generation Firewalls.
Provides situational awareness and visibility across your entire network, including branch and remote sites.
Specifications:
Stonesoft Management Center Specifications
Management Server
Number of Managed Devices
License limited: 2 to 2,000 nodes with one Management Server
Number of Administrators
Unlimited
Number of Elements
Unlimited
Number of Policies
Unlimited
Number of Log Servers
Unlimited
Number of Web Portal Servers
Unlimited
Administrator Authentication
Local database, RADIUS, TACACS+
Device Connections
SSL-encrypted
Log Server
Number of Supported Devices
Unlimited
Log Records per Second
The high-performance logging system can process more than 500,000 records per second
Device Connections
SSL-encrypted, IPv4/IPv6
Log Storage Size
Unlimited
Number of Log Forwardings per Log Server
Unlimited
Features
Management Client
Java-based client program with Java Web Start support
SMC Application Programming Interface (SMC API)

Documented API enabling easy third-party product and service integration
Uses REST architecture where data can be XML or JSON coded

Simultaneous Administrators

Several administrators can perform changes at the same time
Critical elements like policies are locked for editing

High Availability
Supports up to four standby Management Servers
Management Client
Upgrades and dynamic update packages are automatically downloaded
Backups
Integrated backup tool for taking backups from the whole system, including all next generation firewall configurations
Navigation
Intuitive browser-like navigation with browsing history, tabs, and bookmarks
Search Tools
Efficient element and references search tools
Quick Filtering
Convenient type-ahead filtering in element lists, tables, and policy cells
Multi-Selection Support
Perform actions and commit changes to hundreds of elements at the same time
System Clean-Up Tools
Enables administrator to easily find which elements and rules are not used
Administration
Alert Escalations
Allows administrator to forward alerts from the system using email, SMS, SNMP trap, and custom scripts
Alert Thresholds
Automatic alert thresholds for overview statistics
Audit Logs
Extensive audit information about all changes in the system
System Reports
Inventory and audit reports about administrators´ activities
Plug-and-Play Installation
Automatic installation: cloud (or USB stick)-based installation with initial policy push
Automated Tasks
Refresh policies; archive, export, and delete logs; make backups with automated tasks
Administrative Domains
Allows division of the environment into isolated configuration domains
Import/Export
XML and CSV export and import with intelligent conflict handling between SMC installations
Messenger Tool
Integrated administrator messaging tool
Remote Upgrades
One-click fail-safe remote upgrade
Administrator Role-Based Access Control
Flexible and accurate administrators´ permission control
License Management
Automatic online license updates and maintenance contract status reports
Troubleshooting Tools
Extensive remote diagnostic capabilities: integrated traffic capture tool, diagnostics, configuration snapshot download from next-generation firewall, and session monitoring views
Policy Management
Virtual Contexts
Share same master context across several SMC Administrative Domains — up to 250 virtual contexts, and each has its own policies and routing tables
Hierarchical Policy Management
Policy templates, sub-policies, aliases, and rule comment sections keep the policy organized and understandable
Application Identification
Restrict access based on network and/or client applications:

Identify applications by payload, and restrict access accordingly
Use client application information from McAfee Endpoint Intelligence Agent

URL Filtering
Restrict access by URL categories
Domain Names
Restrict access dynamically by using domain names
User Identification
Create user-based rules either with or without authentication
Zones
Physical interfaces can be tagged with zones and referred to in the policies
Inspection Policies
Granular control for deep packet inspection and easy ways to toggle off false positives
Quality of Service (QoS) Policies
QoS class-based policy configuration
Policy-Based File Filtering
Define how file types are inspected using McAfee Global Threat Intelligence file reputation, Anti-Malware Scan, and McAfee Advanced Threat Defense
Network Address Translation (NAT)

Default NAT
Element-based NAT
NAT policies

Policy Validation Tool
Helps administrator find configuration mistakes before policy activation
Policy Snapshots
Allows for exploration and comparison of Stonesoft Next Generation Firewall configuration history
Policy Restoration
A previous policy version can be recovered and uploaded to the next-generation firewall
Rule Usage Optimization Tool
Enables administrators to see how many times each rule has matched within a specified time period
Rule Search Tool
Integrated tool for searching rules in policies
Rule Names
Ability to create rule names that are visible in logs, statistics, and reports
Fail-Safe Policy Uploads
System automatically restores the previous policy version if the new version fails
Configuration
Routing
Drag-and-drop routing configuration for the firewalls and specific widgets to add routes and default routes
Automatic Anti-spoofing
Anti-spoofing configuration is created automatically based on routing
IPsec VPN
Easy-to-use VPN editor and VPN diagrams reveal the underlying topology
SSL VPN
SSL VPN Portal and SSL VPN full tunnel configuration support
Route-Based VPN
Define tunnel interfaces and use them in route-based VPN
Incident Case Management
Integrated tools for collaborative network incident management
Firewall Element Creation Wizard
Create hundreds of firewall elements through a firewall creation wizard
Browser-Based User Authentication
Configure and customize an easy browser-based authentication service for users
Status, Statistics, and Reporting
System Status Monitoring
Real-time status information about network devices and their connections
Appliance Status Monitoring
Graphical view on the hardware status of the appliances
Networks Diagrams
Visualize configurations, topologies, and status connectivity with drawings
Session Monitoring
Dedicated views to monitor connections, VPN security associations (SAs), authenticated users, active alerts, and dynamic and static routes
Overviews
Customize dashboards of network statistics for real-time monitoring
Geolocations

Show the country information for all IP addresses with the help of country flags and geolocation statistics.
Show where network attacks come from

Reporting
Customize and schedule reports that provide detailed information about network statistics
Web Portal
Lightweight web access to policies, logs, and reports
Third-Party Management
Third-Party Device Monitoring
Allows administrator to monitor and view status changes in third-party device availability
Third-Party Device Log Reception
Log parsing and reception in syslog format for third-party devices and out-of-the box support for CEF, LEEF, CLF, and WELF format
NetFlow/IPFIX Reception
Ability to receive and consolidate data in NetFlow v9 and IPFIX formats
Third-Party Device Statistics
Graphical statistics and reports based on third-party log data and simple network management protocol (SNMP) counters
Number of Supported Third-Party Devices
200 per Log Server
Licensing
Each third-party device consumes 0.2 from Management Server license device count
Logs
Log Browser
Common log browsing view for all log data
Drag-and-Drop Filtering
Efficient log filtering—drag and drop any log data cell to the Query Panel
Log Statistics
Create log statistics on the fly and see the top trends
Log Visualizations
Find the anomalies in logged traffic in filterable log visualizations
Log Aggregations
Summarize the large amount of filtered log data by any columns
Archiving
Archive logs in multiple directories by using filtering
Backups
Integrated backup mechanism for Log Server configuration and log data
Log Exports
CSV, XML, CEF, LEEF, and McAfee Enterprise Security Manager log exporting; logs can also be exported to PDF and ZIP files directly from the log browser
Log Forwarding
Real-time log redirection in syslog; CEF, LEEF, XML, CSV, IPFIX, NetFlow, and McAfee Enterprise Security Manager formats; configuration for filtering, data type; and log field selection available
Log Data Contexts
Shortcuts to browse different types of logs with dedicated column sets
High Availability
Support for backup Log Server
Stonesoft Administrative Domain License:
Stonesoft Administrative Domain License provides centralized management of multiple customer environments
Managed Security Service Providers (MSSPs) need to reduce the high administrative costs associated with managing multiple servers across multiple domains. Stonesoft Administrative Domain License enables management of multiple customer environments through a single Management Server. Configurations can be reused and shared across domains for rapid and efficient distribution of changes.
Stonesoft Administrative Domain License Specifications
Domains
Maximum Number of Domains
200
Number of Administrators
Unlimited
Number of Managed Devices per Domain
Unlimited
Number of Elements per Domain
Unlimited
Features
Configuration Separation
Isolate customer environments to different domains, and make sure that customers' network elements never get mixed up
Configuration Sharing
Share elements such as policy templates for all domains
Access Control
Configure the administrators' visibility and responsibilities with the help of domains
Monitoring
Monitor the status of all granted domains with the help of the domain overview
Customization
Customize the PDF style templates
Migration Tools
Move elements between domains with the integrated "move-to" tool
Import/Export
Import and export elements between different SMC installations and domains
Virtual Contexts
Share the same master context across domain boundaries of up to 250 virtual contexts, which can each have their own policies and routing tables
Stonesoft Web Portal Server:
Forcepoint Stonesoft Web Portal Server provides customers, administrators, and management with a lightweight web-based portal for viewing logs, scheduled reports, current policies, and policy change history. MSSP administrators can configure the amount of information displayed on the portal based on customer needs or to reduce support requests.
Stonesoft Web Portal Server supports English, Spanish, and French natively, with the ability to add new languages.
Key Benefits
Clientless, read-only access to logs, reports, policies, and policy change history
Real-time network status available for defined users
Support for mobile devices
Stonesoft Web Portal Server Specifications
Domains
Maximum Number of Concurrent Users
250 per license
Number of Administrators
Unlimited
Number of Web Portal Users
License limited
User Authentication
Management Server database, RADIUS, TACACS+
Device Connections
SSL-encrypted
Features
Security Policies
View next-generation firewalls' latest configurations in HTML format
Reports
View reports that are scheduled to be published in the web portal in HTML format
Log Browsing
Browse and filter the logs in HTML format
Log Details
View log event visualizations and other log details in a separate HTML page
PDF Export
Print reports and logs to PDF documents
Announcements
Administrators can specify announcements to be shown in the web portal
Policy Comparison
Compare the different next-generation firewall configuration versions to see if the change request has been implemented
Localization
The web portal can be easily translated to any language
Customization
Customize the look-and-feel of web portals